The Stranger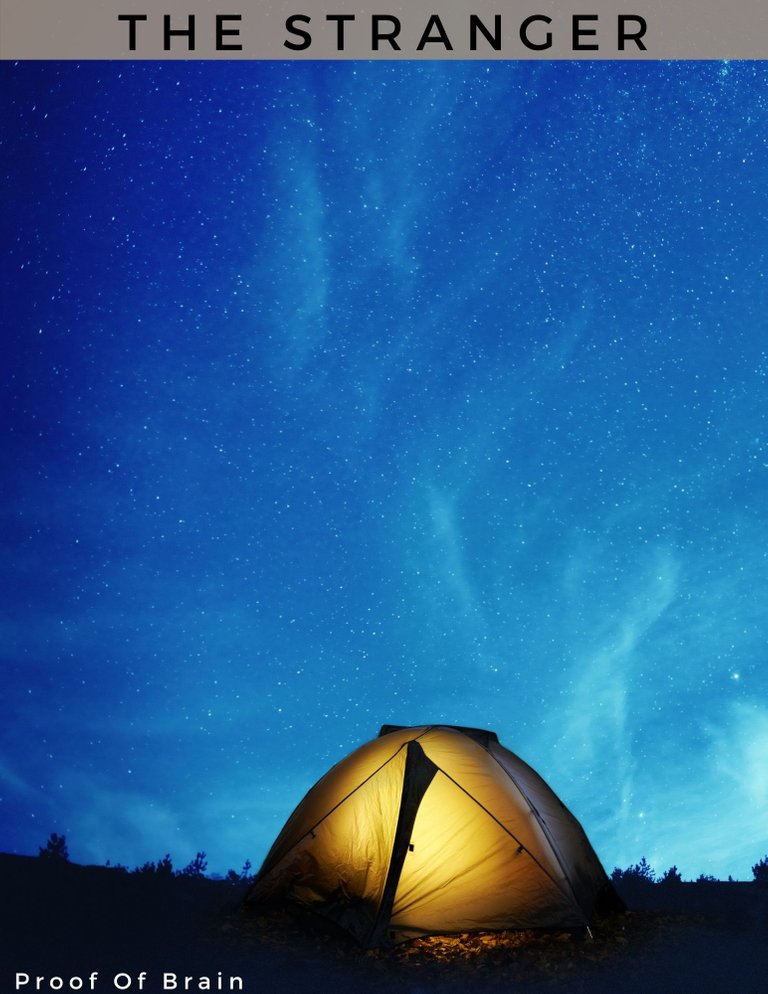 by @erh.germany
On the fifth day of their trek in the forests of Upper Italy, the boys finally reached their campsite. Immediately throwing down their heavy shoulder luggage.
Neigel wiped the sweat from his brow with a blue-red-white striped scout cloth, as he had done countless times before, so that by now the cloth was worn and faded, a sign of his challenges. Just like his once dark blue shirt and the shirts of the other boys had long since seen better days, but that was how it was supposed to be.
Walter tossed him his sleeping roll, which Neigel quickly caught and then threw himself with it onto the soft forest soil. The others came panting after them and, exhausted but happy, after some banter about who should look for the firewood, they began to set up their place. The heavy fabric pods for their spacious tent were hoisted onto the appropriate brackets, Mark and Vincent, the other scouts, doing so in routine fashion.
"Soon it will be your baptism!", Neigel called out to Vincent, the youngster, and everyone laughed in joyful and comradely anticipation, as Vincent was the only one who had not yet received his name. Neigel, who had been christened "Surfboard", had to endure his baptism in the form of remoulade and mustard in his hair and had been given things to eat that he would never have eaten in his life had it not been part of the ritual.
"Eh really, guys, don't mess with me!", Vincent replied, but of course knew full well it would come to exactly that. Earning the name was a mixture of fun and seriousness. Oddly enough, at home, one failed to pull off this form of character wisdom and slyness. But even though Vincent anticipated his initiation, he also was a bit hesitant.
There were only four of them who had hiked up to the hill this time and they would meet the rest of the group again in a few days. Surfboard, as the oldest and in charge of the small flock, turned to his comrades as they sat around the cosy crackling fire and hungrily gobbled down their dinner, the obligatory tinned ravioli and Vienna sausages. Still chewing, he said, "Tomorrow two of us are going down to the next village. We urgently need new provisions. Who volunteers?"
Walter, who was called "Ram", was the first to speak up: "Me in any case, I have to shit so badly, no one will believe me!"
"And may the Ram have some flowered toilet paper?" interjected Mark, aka "Please", who couldn't understand how anyone could crave sanitary facilities when the whole point of their venture was precisely to escape from pleasant civilisation. "Say, can't you do your business among the trees like any normal pathfinder, are you a real woodsman or a sissy from the city?"
"Shut up, Please! You don't know how it tears your guts apart if you can't poop!"
Vincent was holding his girth in laughter because Surfboard had pulled his trousers halfway down, pretending to press and then giving up exhausted. With his shorts still down, Surfboard dropped to one side and shouted, "Done, good old battering Ram, you shall have the pleasure of an enamelled toilet bowl again! I'm guessing that Please doesn't want to join, so Vincent and you are going to the village together."
"Next time I'll stay at the camp, I promise," Vincent, still chuckling, got immediately excited by the prospect that he would probably meet girls in the village.
Girls, after all. They had it better on their hiking trips anyway. Once, a group of eight had managed to stay at a local's place, a farmer had opened a barn for them and on another occasion, according to Vincent, a teacher had even invited them to spend the night at his house, including dinner.
"Hellooh, good evening, kind sir, I'm a girl, tinkle, tinkle. Can't you let us in, we're starving and dying of thirst here in the wicked hard world," Please mimicked what he meant by girlishness. "
Remember when we were chased away by that crazy guy who set his dog on us?"
"Shoosh, yeah, that's right, or when we got lost in the bog and came out at a wind turbine where the workers looked at us like aliens?"
So the evening passed in cheerful chit-chat and during night they slept peacefully.
The next morning, Vincent and Ram having already set off down into the valley more than two hours ago, Please and Surfboard spent their morning in relaxed silence.
Surfboard, who was cutting a stick for a piece of grilled meat and whistling a tune, was interrupted by his friend: "Shht! Listen, do you hear something? That can't possibly be the boys."
Surfboard put down his carving and both looked in the direction from which they heard sounds. From the undergrowth they saw a figure coming in their direction. It waved at them from a distance.
In approaching them, they realized a man, already a bit aged, conspicuous about him was his rather run-down appearance, but in another way he seemed even elegant, with a hat on the already gray curls protruding under it and dressed with a walking stick. "Good day, buona giornata, young gentlemen!" he called to them. Eyes shining bright.
My part of the story
"Hello, Sir! Can we help you?" asked Surfboard warmly. He motioned towards the campfire, indicating that the older man should have a seat.
"Thanks so much for your invitation." he replied, walking into the scout's camp. The man seemed grateful for the chance to rest, yet he didn't appear tired.
"My name's Surfboard. This lughead here is my friend, Please."
The man acknowledged each with a short bow of the head. "You can call me Cavallo. I am on a long journey, thank you for your hospitality."
"It's our pleasure, Cavallo." replied Please. He was curious to find out what an old man with no gear was doing way out there, but was too polite to ask.
Surfboard on the other hand had no such inhibitions. He was the leader, after all. And as the leader he considered it his responsibility to get to the bottom of this mystery.
"Do you by any chance have a little extra food? I can't pay you, but perhaps we could trade?" asked Cavallo in a soft, gentle voice.
"You are welcome to join us for lunch. We don't expect any payment. I saw that you came from the East, and there's nothing in that direction for fifty-four kilometers. How did you get so far without any food or gear?" asked Surfboard.
"I didn't come from Brawer. My walk wasn't too far, and I'm not as delicate as I look." Cavallo chuckled a little, as if he had just told an inside joke.
The boys looked at each other, wondering if their guest might have a few loose screws. Despite his strange and sudden appearance, the man didn't set off any warning bells.
The man ate his peanut butter crackers quietly, then stretched out for a nap. Perhaps he was more tired than he looked. He slept several hours.
"Cavallo, won't you join us for supper?" asked Please, when the old man awoke.
"I would be most grateful, my friend. But I have no money."
"We don't want any money, we have enough food for the three of us. And our two friends should be back any time with more." replied Please.
After they ate, Surfboard went to the edge of camp for some extra firewood. While there he motioned to Please, then mimed a pillow and sleep, pointing at Cavallo. Please nodded.
Surfboard approached the older man, who was holding his hands out towards the warmth of the flames. "Excuse me, it's getting late. Would you like to spend the night here? Two of our group are in Torbu, so there is extra bedding. I don't think they will be coming back this late, but if they do we will use our jackets and shirts for blankets and pillows."
"That sounds wonderful, my young friend. Thank you. Again, I can't pay. But I will be forever grateful for your kindness."
"We don't expect anything, Sir. You are welcome to share our camp, what kind of hosts would turn a guest out into the night?" spoke up Please. Secretly he was wondering what the old man would have offered had they accepted his offer of a trade. Not because he wanted anything from him. But because he wanted to know more about the mysterious hiker.
Surfboard nodded his agreement. "Your company is payment enough. Do you have much further to go? Maybe we can all travel together, after the guys get back in the morning. They'll be bringing plenty of supplies back too. We'll have more than enough."
Cavallo smiled, as if he had been hoping for this very offer. "That's very kind of you, but I must travel solo. This welcome respite is just for the night. I will be on my way when morning approaches."
After that, he became quiet. Not unfriendly, just not talkative. The boys didn't want to make him uncomfortable, so they left him alone except for bidding him a good night, and pointing out the sleeping arrangements before they turned in.
He was still sitting by the fire when they went to sleep, so they figured he would probably have a late start in the morning. Still, they had a strange feeling that he wasn't a normal visitor. Sleep was slow to come, because of all the unanswered questions.
When the sun rose, Surfboard had been awake for at least two hours. The stranger had been gone before he awoke. He left without a trace, presumably in the middle of the night. The fire had been well tended, but the sleeping bag looked as if it hadn't been used.
They were stumped. What could he have been doing trying to hike through the hills at night? Neither of them had seen a flashlight, and a torch wouldn't have lasted until daylight.
"Do you think we should go look for him?" asked Please when he woke up.
"Let's have breakfast first, and when the guys get back we can all go look." said Surfboard. Since they would have had to abandon their search soon anyway to meet up with Ram and Vincent, that made sense.
Oddly, when Surfboard opened the food pack to prepare breakfast, it was full. There was fresh bread, jam, butter, cheese, salami, and even freshly picky grapes. Enough to feed the four of them for two days! Underneath he found their regular camping rations, untouched. He shook his head. How did that food get in there?
---
"Where were you?!?!" asked Surfboard.
"It started pouring cats and dogs right after we reached Torbu. We had to beg the storekeeper for a place on the floor. Once we agreed to tidy the place up, and be locked in, he still charged us."
Surfboard then told them what happened.
"Very funny!" exclaimed Ram. Neither he or Vincent believed it until they saw and tasted the food.
The four friends packed up their things. Under the tent there was a small hole. Sitting inside it, cushioned by soft green moss were two identical and very lifelike statues of prancing horses.
"What is this!" exclaimed Ram. He carefully picked up one of the heavy golden statues.
"Those eyes look like real diamonds! And that saddle and bridle are full of jewels too." marveled Surfboard.
"What did you say the old man's name was again?" asked Vincent.
"He said to call him Cavallo. Didn't give a last name." replied Please.
"Cavallo... That means Horse in Italian. I've never met anyone with a name like that." said Ram, getting involved in the mystery.
After the boys were packed, they searched the area. "I think I found something!" exclaimed Ram.
The other three ran to join him. They didn't quite know what to make of their discovery.
"Those look a lot like hoofprints in the mud by the river, don't they? But if they are, why do they just stop in front of this boulder?" asked Surfboard.
Confused, the boys decided to go into Torbu. Maybe someone was looking for the horse, the old man, or both. They decided to begin at the visitor center. If anyone was out for an extended hike that would be the place to leave an itinerary, in case of an accident.
What they saw shocked them. There was a painting of a magnificent golden stallion, with bridle and saddle matching their statues. Next to it was Cavallo, with a walking stick. He hadn't changed at all, except in the painting he was wearing a brown cloak. This scene had been painted over three hundred years ago.
Underneath there were various plaques depicting the adventures of those who met up with the man, his horse, or both of them.
Invariably, those who showed him cruelty met with a very painful end. Those who were greedy died poor. Once, a rich man cast him off of his estate. The next day, his only heir was dead and his vineyard withered, never to produce again in his lifetime.
But those who showed kindness and generosity were known to have great fortune, and long healthy lives. It was reported that once a beggar shared his only bread crust with a stranger in a brown cloak, and the next day he accidentally saved the life of the crown prince. He knocked into him right before an arrow would have surely pierced the child's heart. The king rewarded him with an estate and a title. The beggar was officially declared royalty.
Deciding not to mention their adventure after all, the boys left the sleepy little village. The only proof, two beautiful statues and a pack of delicious food.
This is a 100% power up post
Cover image is from Canva, using their gallery
---
---