How Much Do You Need? .:. #MyHiveGoals 2023
After being in crypto for over 6 years I am 100% convinced that the future for it is bright... If you asked me about how sure I am 5 years ago, I would probably have a lot of doubts, but today, crypto is so much integrated on so many levels that it's impossible to stop it... Yes, the fight is still on between regulators and crypto developers, but it's not about shutting down the crypto, but more about INTEGRATING it... That's a huge step forward and a huge difference between now and then (5 years ago)!
But, when I take a look around HIVE and how many people are short-sighted, I'm getting aware that not everyone is as convinced in crypto as I am... I wouldn't say that my "job" is to convince YOU of that, but my "job" is to show you by example how it is, and how crypto can be a great addition to your budget! The starting point is always the same, create a goal, develop a plan for how to reach it, and execute it! That's what I'm trying to do with these #MyHiveGoals reports.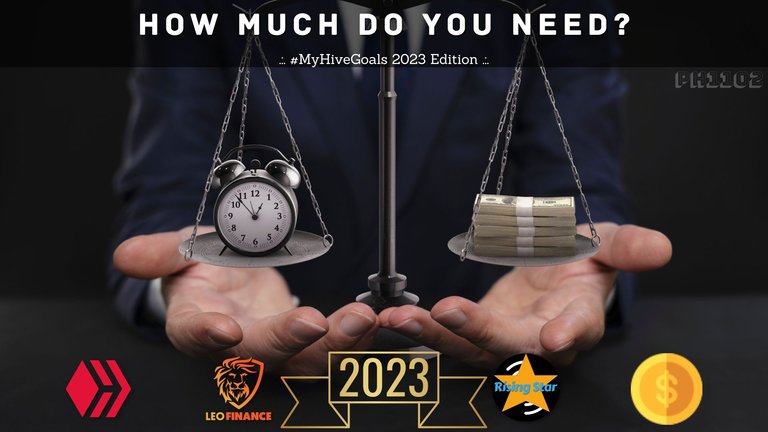 Created in Canva.com
The starting point, or better said the starting question should be "How much money do I need?" Put it down on paper, or in a TXT file what are your monthly expenses, rent, food, clothes, etc. What is the minimum amount that you need to "survive" the month, and what is the "optimum" amount that you need to live? When you have those numbers, you can easily split that amount into weeks, and eventually, into days... If you want to live ONLY from crypto, then you have a number, if you want to fill up the hole in your monthly budget, then deduct the number from your current earnings and you will get the amount that you want to earn from crypto...
Now you have a clear picture of your goals... How much TIME do you need to reach the goal? Split it into multiple YEARS and try to be realistic... Create a yearly (and monthly) goal(s) that is 5-10% higher than your current earnings, just to have the motivation to push every day a bit more... to stretch yourself...

Now we are coming to the hard part... If you expect that you will reach #MyHiveGoals ONLY by creating content, expecting that OTHERS will just fill your bags, you are WRONG... This is a social media network blockchain which means that you have to do things in TWO-WAY... You can be a creator, but also to reach more audience, you have to be a CONSUMER too... It's important to ENGAGE and it is important to CURATE content created by others!!
You will help others, but you will also build your STAKE, which will provide you with PASSIVE INCOME! Without that part, you will probably NOT reach your goals, because the staking part of HIVE is the SCALABLE one, that you can GROW, making your goals closer and closer... You will not depend on OTHERS (waiting for them to upvote your posts), but on YOURSELF, helping others to grow by curating and earning curation rewards (for yourself) in the meantime...
Take those numbers that you have calculated in your goals and count how big STAKE you will need so that you can reach your goals PASSIVELY... Try to build that much HivePower on your account, or at least part of your goals numbers... You don't want to WORK all your life, you are here early, and if you do things right, you can achieve early retirement by accumulating value NOW! I don't know for you, but I know that my goal is to have more passive income sources that will give me more free time in the future! You are building your "free time pool"!

It's time to go back to other numbers for #MyHiveGoals... In the beginning, let's check out HiveStats...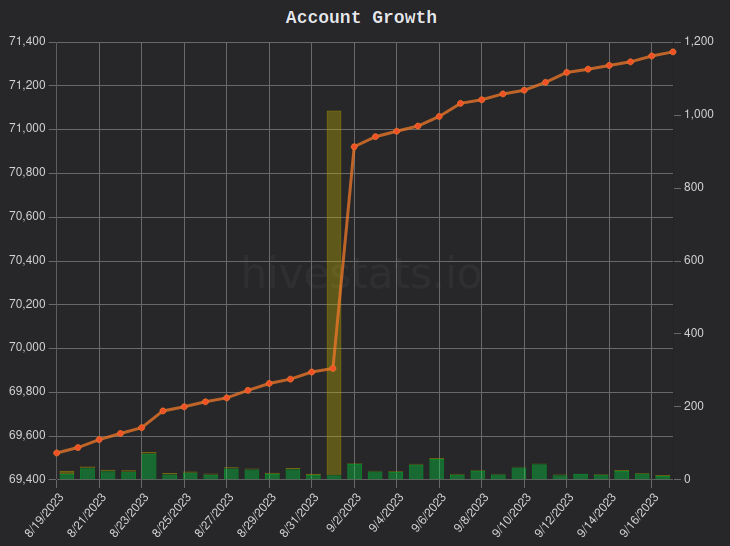 screenshot from hivestats.io
Slowly, but surely, I'm coming back to my daily routine on HIVE and around HIVE... In the last 7 days, I have created 5 posts, the same number as the week before, which is kind of optimum for me... I don't want to push more than that as some of the posts get a lot of meaningful comments, which means that I need more time to reply to them... And sometimes, these comments are like creating a separate post... And I like it! 🙂
Regarding the numbers, I have accumulated 250 HivePower which is at the higher margin of my planned weekly numbers (200-250)!
---
This week, I have accumulated a bit more LEO tokens than in the previous one... Still not enough, but numbers are a bit improved... I have collected an additional 62 LEO Power...

GAMING GOALS - Flexible Goals
Regarding my Rising Star goal, I'm still doing a bit more than I have scheduled before... So, instead of doing two times 12 packs and once 24 packs, I was doing two times 24, and one 12 pack opening during the past week...
Because of that, I have accumulated 175 cards in total during the last 7 days, which was exactly the same number as in the last report... I will try to repeat that pattern this week two until I catch up with my monthly goal!
---
Still no news regarding my GLX tokens goal... I'm stubborn in my accumulation and not willing to sell my tokens cheaply... As I didn't invest a lot in them, except for compounding earnings most of the time, I'm not in a hurry to return my investment... Accumulation mode is FULL ON!
In the last 7 days, I have accumulated 2330 GLX tokens which is almost the same amount as the week before... It looks like the staking APR didn't drop a lot, which is great!

It's time to update the numbers and put them into the spreadsheet until the next week! So, freshly updated numbers for #MyHIVEGoals, on September 17th, 2023 are:


These are my initial goals for 2023 created on January 15th, 2023:

Join me in this awesome #MyHiveGoals and let's grow together! It is fun, motivating, and will keep you focused!
Thank you for your time,
~ph~
PS. None of this is financial advice of any kind...

If you want to support my Hive-Engine witness node, you can do it by voting for @ph1102.ctp here https://tribaldex.com/witnesses... THANKS!
Don't forget to follow, reblog, and browse my Hivepage to stay connected with all the great stuff!
You can also find me on LEO Finance .:. Twitter .:. LBRY

---
---