My Ride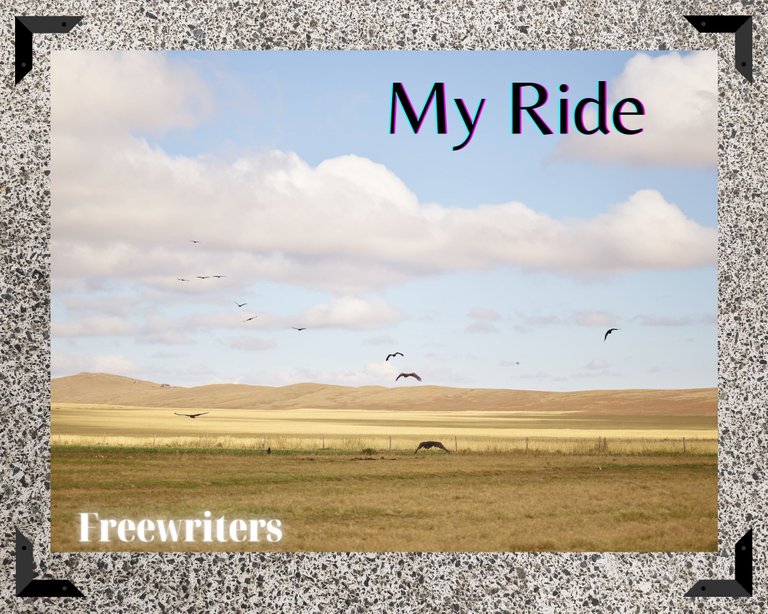 I knew that I would never be able to stay awake, but I was too intoxicated with drowsiness to care. I continued to barrel down the highway at breakneck speed. Towards my warm, soft bed in Kansas City.
The singsong quality of my urgings to stay awake only helped me to find that deep sleep which my body craved. Sleep felt wonderful, more than I could ever remember. When I finally opened my eyes, I was fully rested - and starving.
But where was I? And where was the car? I was in a bed, but not my own. And I was naked. I never sleep in the buff.
"Breakfast is ready, Mike! Or are you going to sleep all morning?" called out a female voice cheerfully.
I got up. Whoever this Mike was, maybe he wouldn't mind sharing some food. It sure smelled great.
Where are my clothes? All I can find are these old rags. They look clean, but they're all patched up. I guess I'll just have to borrow them. Can't go to breakfast like this.
Ah, they fit! I'll figure out where I'm at after I get cleaned up and have a good breakfast.
"There you are. I thought maybe you were going to leave all the food for us." said a beautiful young woman, in a joking voice. A toddler was in her arms, his hair the same jet black as hers.
"Hello ma'am, I'm awfully grateful for breakfast. Can you please tell me where the bathroom is?"
She cocked her head curiously. "Since when did you take a bath on Wednesday, and before breakfast at that? It's time to eat. Unless you aren't hungry?"
"No, it's not that. I just want to wash my face, and use the restroom."
"Rest room? You can rest while you eat. And there's the water basin."
I could tell that I was starting to upset her, so I just washed my face, then excused myself to go outside for a few seconds. This seemed to satisfy her.
---
What is this place? There's nothing in sight but farmland and prairie. It's like a scene straight out of the past. Well, not nothing exactly. There's a barn, a couple of sheds, and what looks like... An outhouse? Do people still use those?
Oh well, I guess I'm about to find out. Yep, that's what it is. The smell is a dead giveaway. And it has definitely seen some good use.
Once I'm back inside, I sit down to the best meal I've had in years. I eat like a horse, hoping that my hosts won't mind.
"Thanks so much for the meal, and the room. I couldn't have gone another mile. How can I repay you? And where is Mike? I want to thank him too."
The woman's eyes became wide. She got up and took a step back. I saw fear, what had I done wrong?
"Who are you? Where is my husband!" she whispered, suddenly realizing that I didn't belong there. I guess I look like this guy, Mike?
---
"Ma'am, I don't know where he is. I think there must be some sort of mix-up. I don't even know how I got here, or where here is. The last thing I remember is driving down the road."
"You look exactly like him..." she said, still terrified.
"Do you have a mirror? I need to see my face."
Trembling, the young woman went into the room which I had just come out of, and produced a small old fashioned mirror. The type ladies were known to use when brushing their hair.
---
I breathed a big sigh of relief. Whatever this was, I was still me. I just needed to figure out how to get back to my car.
"Ma'am, I'm as confused as you are. But I can assure you that I won't harm anyone."
She seemed to be a little calmer, but not much. "You must be sick. I'll go get Doc Tripper. He'll know what to do."
Before I could respond, she had grabbed her son and rushed for the barn. I watched, but didn't try to stop her from getting the horse and wagon ready. I was afraid of sending her into a complete panic.
---
"What is the last thing you remember?" asked the middle aged man with the black bag.
"Driving my Cadillac last night. I was beyond sleepy. I probably pulled over out of instinct."
"What is a Cadillac? Some sort of wagon?"
"You could say that. But where am I?"
"You're in Deersberg, where you were born and raised."
"What state am I in? I've never heard of Deersberg."
"Kansas, of course! Mike, let me examine your head again."
---
Meanwhile, a man is waking up in an unknown contraption with a wheel inside of it. A smooth grey road greets him when he finally figures out how to open the door. The strange road seems to go on forever... It has similar contraptions whizzing by, without the aid of horses.
"Where am I? Where are Julie and Carl? And what are these strange things?" He asks himself. A few minutes later, his pocket begins playing music.
Cover image made on Canva using their gallery
---
---