Hey Hivers!
---
This post is a request to the community for help and supports me in growing and spreading awareness about Hive in my country Bulgaria
---
First, let me start by expressing my gratitude to @theycallmedan who's been supporting the Bulgarian community growth for quite a while now.
The aim of this post is to find delegators or people adding their accounts to the @hive-bulgaria Curation trail
---
I've been sparing a lot of my time to promote #hive and work with people one on one to walk them thru the entire network of #hive
Trying to find the right people to help us promote and grow Hive
The major problem with the newcomers is that they don't believe that #hive is real money or actually better than money!
An asset class that you and only you own, especially here with #hive as we are able to hold to our private keys on our own blockchain.
As we all know the point behind crypto is to send money from person "A" to person "B" immediately without any restrictions from anyone to stop the transfer.
Also, the best of all of it is that here in Hive we have 3 second transaction time, free withdraw to an exchange if you want to get your fiat money or exchange it for another crypto, 0.01 withdraw fee from an exchange that is less than $0.0029 at the current price or 1/3 of a cent.
---
Let me explain why I need this delegation or Curation trail
As we all here on hive are aiming to make Hive day to day social media, this will be possible with mass adaption and a lot of people times more than that we currently have as active users.
I want to help and support newcomers only for a single photo (similar to @dbuzz) with a short text eventually because the majority of people are not looking for a blogging platform (As that is required from Hive for now so you can make some value into your post), and mass adaption will not be possible for a blogging platform, way easier if we make it possible for a normal person to upload his morning coffee or a selfie-and make 1-2 Hive from this.
A few examples from newcomers:
https://ecency.com/@ivankirvikov/posts
https://ecency.com/@sisstoyanova/posts
https://ecency.com/@stacho/posts good example for this..
https://ecency.com/@iliqn420/posts
https://ecency.com/@adamlenkov/posts
https://ecency.com/@yovchev/posts
https://ecency.com/@radinaaa.ppp/posts
My end aim is to build 1000,10000 active people daily from the same country with at least 100 Hp, then we will have a very strong and self-sustaining network.
That's why now I'm trying to start by building that at my village, but will be way easier if people are able to upload 1 photo and be rewarded for that...
Mass adaption will come with time, I'm pretty sure if we focus recourses and power into one city/village to start from.
I started also by showing a few of them how to withdraw so they can believe in the cryptocurrencies as money/asset
---
I'm also trying my best to explore all the apps and find occurring bugs to report them so we can have a smoothly running network of Dapps.
This is how my phone looks like with @hive Dapps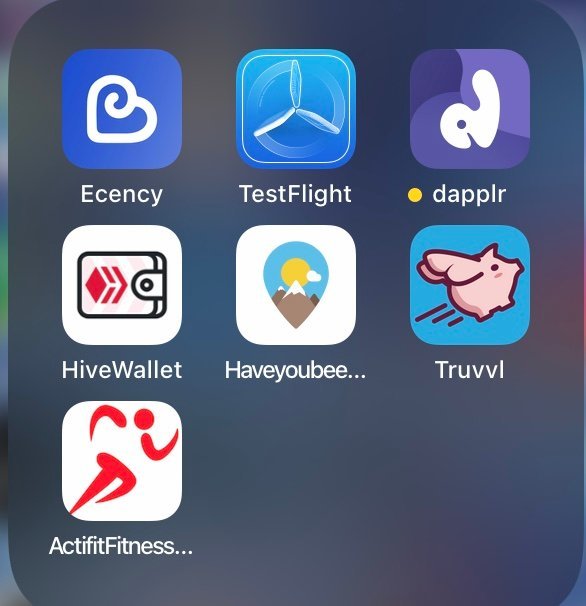 As of now, I'm trying to adapt people to the most easier for use Dapps like @ecency & @dapplr and trying to report all the issues or bugs found around to @good-karma @ecency , @dapplr as well( But the team looks took some time off)
Also as a video content creator, I do use @threespeak on an almost daily basis ending 99% of my videos with invitations to people to check the description on my videos to find more about Hive, threespeak, ecency & Hive in general.
Also staying in good touch with @eddiespino about bugs and issues found around the threespeak platform
---
Also not only helping a lot of people to discover #hive but buying a lot of hive as well, and I've managed to bring people that all together bought more than 100k in the past few months.
---
If you decide to delegate for the growth of the Bulgarian network feel free to do an amount by your choice to @hive-bulgaria or click any of those down below:
---
Time will come hive will Thrive!
All we need is a user base!